The Is 2021 BMW M550I is bringing some extra style, some extra performance, some extra luxury and technology to the 5 series and the 5 series has been the goto because of its size, the proportions and the performance that it brings and this 2021 BMW M550I has X drive exclusive. BMW is offering the 5 series with the all-wheel-drive capability and an awesome twin-turbo power but do BMW M550i stands to be the best performance sedan?
Exterior
Coming to the front it gets the new headlights with a good depth of the headlights housing what I mean is that everything is a blackout and has a massive day time running lights where led lights located deep inside the housing. As you work down the M550i, BMW has provided a massive functional air intake down that the extended lower front facial that lower front fascia no need for a lip spoiler.
As we come across the iconic kidney-shaped cells design you will notice that this does have an active shutter system so that when the car is of all shutters are closed but you are going to get this vertical gloss black slots I do like the shape of the grill overall now is almost like extended width point so it looks sort of like a butterfly but you still see the direct connection to the BMW of the pass, of course, you got that iconic logo.
Then as you work our way down BMW does a great job of shaping there front fascia giving it a lot of different design element look at how far extends out down below full functionality all the way across especially on the larger air intakes I mean this is massive. The simplicity in their style they get a lot out of doing a little and I like that so you have this nice rises that go to was a little bird off an indentation on each side but super clean around the bend that do we work with getting nice wheels.
Tyre set up on here so what you are looking up 20-inch wheels 245 the width on the tires up front 35 series sidewalls and before we forget rear tyres 275 so you getting a wider rear tyre and I know you might be saying if it's all-wheel-drive why would I want those wider rear tires outback well because it sends more power to the rear is that great news and is going to keep you planted. As we move, a very low sidewall gives it such a nice aggressive sporty look.
The wheel is first of all this almost like titanium silver flat titanium metallic silver paint that they have simple on the machined aluminium around the perimeter and just a little bit on each of this plate spoke design that massive callipers all about that m performance and this isn't a full m car you are going to get some great formulas especially with the all-wheel-drive system.
But you got your M logo if you're wondering stands for Motorsport only zonk where is the self-centring BMW centre caps that I think that would just be a nice extra touch especially on a 5 series now as we go downside, on the side, there is a nice aerodynamic functional side vent and it kind of just balance in effortlessly with there colours.
Down the mirror caps, you are going to get your 360 cameras all the way around slim and trim on the turn signals love the way that side sill kind of drops down and then it plays out as you get towards the rear.
The 550I is only available with X drive you can get all the centre simulated diffuser is located and the way that they bought down the sides of it just gives it some extra indignant but while we go ahead the taillights are partially the way BMW smokes out most of it except for the red portion just kind of lens in nicely but when we go ahead let's pop the hood of this M 550I and see what's powering it.
Engine Specification
Under the hood, we get a 4.4-litre twin-turbocharged V8 engine 523 horsepower 553 NM of torque which is mated with us ZF 8-speed automatic transmission like I mentioned you have the access drive all-wheel-drive system.
The vehicle does weighs 4275 pounds but here is a performance 0 to 60 in 3.4 seconds a top speed that governs 255 miles an hour mpg 17 in the city 25 on the highway it's nice to see e them taking the 5 series and build a train for everybody is budget and everybody is known personality type that looking at this type of German luxury Sedan vehicle.
Boot space
In this BMW M550I you get to see electronically assisted trunk lid with that you get a decent 18.7 cubic feet of space I do like the way you have right here the lever to pull so that the seats go down. You also get the cargo nets storage on the side.
Interior
This M 550I is not a true M car but you are getting performance the way that this one is option MSRP $86000. Let's see what you get for the money now the door panels we get an exclusive touch you have the optional Harman Kardon sound system white contrast stitching material the wood frame it stays for with no veneer finish on it. Down that you do get memory setting with beautiful armrest, you get a massive 2 pockets you could easily get a superb big gulp. As we go from the dough panel to the dash you get that would it looks exclusive its stylish but just a little too much veneer.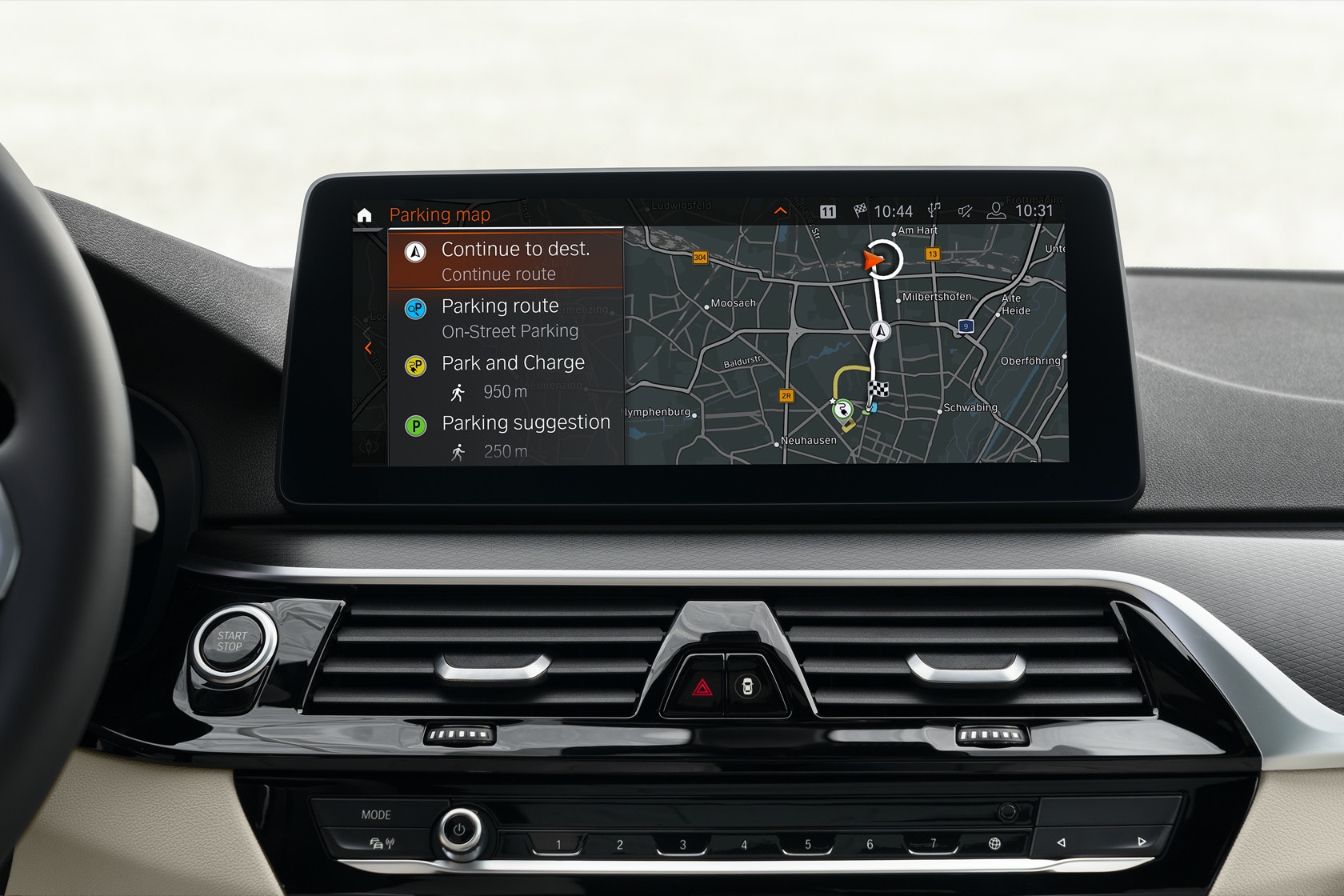 On that, you get a massive 12-inch infotainments screen. Download app you get a little bit of gloss black so not only you are going to get the shine of the winner finish on the world but you are going to get some shine on this glass black and then, of course, the fingerprints if you don't want fingerprints on that glass black then don't touch it. the radio control is super slim you are going to have ventilated seats heated seeds dual climate control with a nice finish from the knobs to everything.
More than the wood under the door we get wireless charging USB-c and cost of the 12 volts with 2 cupholders. as we come back, we see the beautiful stitch work more would know BMW is without the I drive controller now almost like the black chrome finish that they put on the north to go through the different functions also the gear lever which is going to control that 8-speed automatic transmission.
Also get three different modes that are sports comfort and eco Pro is going to change the suspension of those settings more gloss black but the good news is soft semi-soft leather with the stitch work.
Seats are super luxurious the stitch work, piping, pleated design ventilated down heated nicely all full electric assist the only that this kind of interesting is just how flat it is so if you're looking I M 550I that's going to hold you in place through the corners these are not going to do that but they are super comfy and you have your standard size sunroof. Hollywood driving so you are getting to memory card settings just like on the passenger seat.
We can also see the stitch work on the steering wheel with BMW and m sport badging on the steering wheel you can look it all day long tails for the back of the century they are smaller side so I am going to think it but you can go up and down ZF 8 if speed I just wanted to a little bit longer and just a little bit closer to the parameter of the wheel, Electronic tilting and telescopic steering wheel.
With that we get a 12.3-inch screen in which you get M 550I lit up the speedometer everything is full digital super clean with the navigation in the centre and has a head-up display as well plenty of headroom but while we go ahead is for the passenger back seat.
The best thing you have plenty of room and I like the way that the kind of notch out the headliner so even a 6 feet tall can get plenty of room what's nuts though in an $86000 car we get to see all the table hardcover leather plastic been used behind the driver and co-passenger seat I guess it can be easily cleaned. You get 2 AC vents is what little shelves were you keep some eateries 12-volt socket and 2 USBs. You get to see nicely leather stitched rear seats with armrest which is Kinda semi-soft but I like the way it passes through.
Features
Advanced technology fills the cockpit of the 2021 5-Series but it can be programmed to be ever-present or nearly absent, allowing drivers to customize the cockpit.  A wealth of standard features, such as dual 12.3-inch digital screens, excellent infotainment, and a bounty of convenience and performance options each earn a point on our scale, as does a 4 year/50,000-mile warranty with 3 years/36,000 miles of scheduled maintenance. 
The infotainment system has improved to be one of the best on the market, with natural voice commands that can do everything from put down windows or disable navigation voice guidance. The 12.3-inch digital instrument cluster adapts to the drive mode, so the tach becomes an energy usage monitor in EcoPro mode, for instance. Oddly, the button to toggle through the gauge info hides on the indicator stalk. 
Should you buy this?
Well, this car is really beautiful on the outside and luxurious on the inside and the main thing the performance. The BMW M550I really come up with the performance but it's not the perfect one but you can add to your list of shortlisted cars.